Attack on Titan, Vol. 4 by Hajime Isayama

My rating: 3 of 5 stars


Although Attack On Titan seems to be centered around Eren, Mikasa and Armin volume 4 provides backstory so we can see how they and the other soldiers were trained. To me the main thing that happened was Eren, in titan form being tasked with plugging the whole in Wall Rose.

Sidenote: We're introduced to Potato Girl. While I personally don't think she's important she seems to be favored by its TV viewers.

One of the main problems I had with this volume was how it transitioned from the present to the past and back. It came up when it gave backstory for the soldiers and the impact that the deaths of their comrades, particularly Marco had on them.

Maybe I was to engrossed in making sure I read it in the correct order, I just wish it was more clearly noted. Other than that, the story progressed nicely and was a good read.



Attack on Titan, Vol. 5 by Hajime Isayama

My rating: 4 of 5 stars


After Eren became a titan and sealed off Wall Trost he was detained for a military tribunal where it was decided he would, on a trial period, join the Survey Corps and his accomplishments would help decide if he should live or be sentenced to death. (Considering the fatality rate for this group, he and a lot others may die anyway. )

This book ends with him and the other members on their first journey and introduces a new titan.



Attack on Titan, Vol. 6 by Hajime Isayama

My rating: 3 of 5 stars


Even though I recommend reading this series in order I do like that the books tend to have a small recap page with character pictures and brief sentences about them and what they've been through.

In this volume we are with the Survey Corps, deep in Titan territory when a female Titan emerges. A human controlled titan to be exact. She seems to be focused on finding Eren whose group is entering the Titan Forest. Will she be captured here or just leave a path of destruction in her wake?



Attack on Titan, Vol. 7 by Hajime Isayama

My rating: 3 of 5 stars


Normally I would watch the TV episode and then read the book to look for any changes or story additions but I couldn't wait and thus is my review for volume 7.

After once again dealing with the heavy loss of their comrades, the Survey Corps Squad have captured the female titan and are planning to get to the human controlling it when the titans seemingly throws a hell mary move by calling all surrounding titans to sacrifice herself.

With the soldiers retreating and counting their loss (view spoiler)[an unidentified spy emerges and the female titans re-emerges and Eren dons his titan form and a battle ensues. (hide spoiler)]

What will happen when the remaining soldiers return to and who can they trust?




Attack on Titan, Vol. 8 by Hajime Isayama

My rating: 4 of 5 stars


This particular volume focuses on identifying and capturing the human/female titan hiding within their ranks.

(view spoiler)[The identity of the human inside the female titan should've been evident from the start. I mean as he looks just like Annie Leonhart. (hide spoiler)]

During the course of her subsequent capture we learn that the wall, which is suppose to shield against titans is intact constructed around their bodies.



Attack on Titan, Vol. 9 by Hajime Isayama

My rating: 4 of 5 stars


Anyway the titans have once again breached a wall leaving the squads to spilt off into groups to warn the people. What I liked most about this particular story was that we got to follow potato girl a.k.a Sasha as she traveled back home. It was nice for all tense and purposes to get some of her backstory even though it included seeing the damage done by the titans.

Sidenote: These human controlled titans are everywhere. I feel like a new one is showing up in every book. This new one sorta looks like an ape and its off putting.
I wonder if Eren's father is the one responsible for this.



Horrorstör by Grady Hendrix

My rating: 4 of 5 stars


The book is basically layed out like an IKEA catalogue with faux furniture dipictions that not only mark the start of a new chapter but transform to implements of torture as the story becomes more sinister in nature.

Although the book is told from the POV of Amy, it centers around her and her fellow employees (Ruth-Ann, Trinity, Matt and Basil) of the Orsk furniture superstore who've stayed behind overnight to investigate strange events/ acts of vandalism that have happened as of late.

What I enjoyed most about this story was that it starts of campy and transitions to a good ghost story all the while playing on my slight fear of retail work.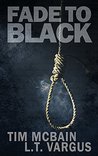 Fade to Black by Tim McBain

My rating: 3 of 5 stars


I don't know if I'm wrongfully assuming things but based on what I've read now and of a previously book, the authors tend to write their main characters with a touch of sarcastic and self deprecating humor to them. Which I'm a fan of.

This story is a little hard for me to write a review for because I'm still not sure what to think of it.

It centers around Jeff Grobnagger, a pessimistic loner who has seizures that send into some wierd state where he is repeatedly killed by a hooded individual. He also seems to be the object of worship by random occult factions. Along the way he meets and becomes friends with an older gentleman trying to find his missing daughter Amity.

Apart from the strange seizure - death incidents nothing of note really happens, in my opinion, until towards the end of the story. This was alright with me because I became more interested in the way the authors expressed life views and some similarities I found between myself and the Grobnagger character.



Heartsick by Chelsea Cain

My rating: 4 of 5 stars


This story essentially centers around a very troubled detective and the young journalist shadowing him as he pursues a sadistic killer of teenage girls in the Portland area.

It has been some time since Detective Archie Sheridan last worked a high profile case which isn't surprising when you learn it resulted in him becoming another victim of Gretchen Lowell, a beautiful psychopaths with 200 victims under her belt. That ordeal not only left him mindf*cked, but left him addicted to pills.

Barely hanging on Sheridan is not only tasked with hunting down a new serial killer that's terrorizing the Portland area by murdering its teenage girls, he also does so while being the subject of Susan Ward's new story.

What I liked most about this story was its flawed characters and how the author reveals their connections. It also doesn't really end with the main characters being profoundly changed like all would be right in the world.



Attack on Titan, Vol. 10 by Hajime Isayama

My rating: 3 of 5 stars


I finally realized that even though the books and the show are the same, I tend to like the show a little more because the books aren't in color. This missing element would make it even better because after a while the characters all start looking like one another.

Story wise, we are still with the soldiers hold up in the abandoned Utgard Castle who are trying to survive a seemingly thought out attack from the surrounding titans. Afterwards we not only identify yet another human controlled titan within the ranks but that of the Armored and Colossus Titans to boot. The story ends with 104th piecing together their connections.

Attack On Tittan Vol.11


The Walking Dead, Vol. 01: Days Gone Bye by Robert Kirkman

My rating: 3 of 5 stars


As the inspiration that spawned the hit TV show that I love I have finally decided to give this series a try. As with most stories being told in different medias (print and tv) the storylines may vary and characters can be introduced at different times else never.

In volume 1, Days Gone Bye, we are with Rick Grimes as he awakens from a coma to find the world dramatically changed. THE DEAD NOW WALK THE EARTH. He has to adapt fast if he's going to survive long enough to find his wife (Lori) and son (Carl).

(view spoiler)[He is eventually reunited with them and his best friend and fellow cop Shane when he is bought to their campsite. Happiness doesn't last long when the camp is ambushed by the dead and lives are lost. The story ends with Shane being shot and killed by Carl who was trying to defend his father against the seemingly envious/dangerous man. (hide spoiler)]

Visually speaking the images were nice and the layout was easy to follow.



Attack on Titan, Vol. 12 by Hajime Isayama

My rating: 4 of 5 stars


Uptil now the volumes after the first all started with a recap that showed images of the characters with descriptions on what happened to them along with their titan counterparts if it was revealed. This one didn't.

It picks up immediately with the Colossus (Bertolt Hoover) and Armored (Reiner Braun) Titan back in human form along with Ymir and Eren, sans arms, recouping at the titan forest inside Wall Maria awaiting nightfall.

With the Survey Corps right on their heels Ymir is able to transform and takes Krista back to Bertolt, Reiner and Eren deeper into the forest.

On a sidenote I know it says Ymir is doing this to see her friend again but I don't know. Maybe her feelings run a little deeper than she's aware.



Attack on Titan, Vol. 13 by Hajime Isayama

My rating: 4 of 5 stars


To me the main storyline in this volume occurres in episode 52 inwhich we learn a little more about Krista Lenz aka Historia Reiss' upbringing.

Another thing of note was the Survey Corps is learning not to fully trust the Royal Government nor the Interior MP's so they're keeping Eren's and Krista (Historia) location secret while Eren does Titan experiments.

On a sidenote my theory about all the titans found inside the Ragako Village actually being its missing residents was reiterated by a character, Survey Corps Squad Leader Hange Zoe. I like having my observations confirmed.




A History of Violence by John Wagner

My rating: 2 of 5 stars


I wish the imagery was slightly better especially when it comes to establishing one place from another but maybe it was done that way to lend a gritty feel to the story.

The story really begins in Tom McKenna's Soda Shop, when two hitchhiking murderers arrive looking to make trouble are dispensed making him a local hero.

While some might look favorably upon this sudden 15 minutes, Tom shys away from it and along the way we learn why. Tom McKenna isn't who he says he is. He has a dangerous past and it's finally catching up to him.



Old Boy, Vol. 1 by Garon Tsuchiya

My rating: 3 of 5 stars



I gotta confess that I sometimes do things backwards and when it comes to this series of books I watched the movie that it inspired first so I basically know how it ends. Still the movie was a total mindf*ck in the best way and I'm hoping for the best with the story in its print media. I also look forward to spotting the differences in it.

Like another translated Japanese story that I've read, its formatted for right-to-left reading as homage to the original publishing.

In volume 1, Mister aka Yamashita, the character inwhich the whole story revolves around, is released after being locked away in a strange room for 10 years by God knows who.

He immediately hooks up with a young virgin and gets a job in construction all-the-while plotting revenge against the unknown individual(s) responsible for his incarceration after discovering a tracking device implanted under his skin.

We the reader do get to see the person responsible although his reasons and name aren't revealed. It is evident that he's a business man with funds to spare. I look forward to reading the next volumes to see how the rest of the story unfolds.



A Short Guide to a Happy Life by Anna Quindlen

My rating: 3 of 5 stars


Anna Quindlen's A Short Guide to a Happy Life is indeed a short read but it doesn't need to be some sweeping novella to deliver its point: If you want to be happy, no matter what your station in life, then just do it. Enjoy your life for the journey it is and surround yourself with love. Granted, this is not always an easy thing to do nor does the book really go in-depth to show you how to manufacture it for yourself Quindlen does write, "unless you know the clock is ticking, it is so easy to waste our days, our lives". It's something to think about.



View all my reviews